Posted by C on 29th Jul 2017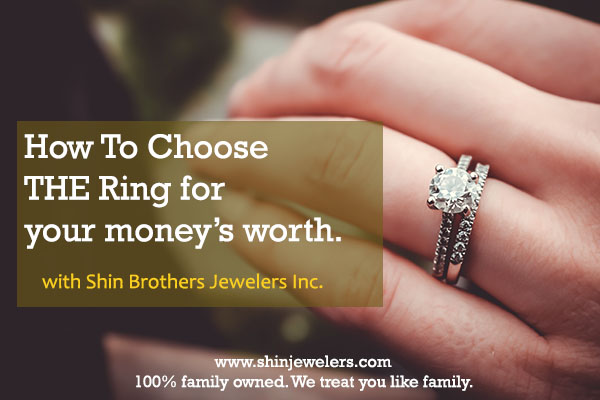 Confused on where to start?
So- you're engaged! What's next? How do you find a jeweler? Where do you find a ring? After you've spent your countless hours on scrolling through your boards on pinterest, you may find some information here helpful on taking your next steps for your big day.
1. Figure out your budget. Sometimes when you visit a jeweler, things may be overwelming. You may find thousands of designs you love, but can only spend a certain amount. If you come in with a maximum to spend, it may help our jewelry staff look for something perfect for you.
2. Grab ideas from other brides/grooms. Go on pinterest, magazines, talk to your friends. Where have they had a positive experience from? Read reviews on places, check out local websites and referred sites.
3. Details, Details, Details! Here are some things that you need to think about in terms of rings:
Stone Weight: How many carats are you looking to get? aka... how big do you want it? carat weight is to size as is bigger is to more money.
Metal Type: Here is the typical range from lowest priced to highest priced metals - silver, 14k, 18k, platinum/24k. Of course, the price depends on the design, diamond weight, stone weight, etc, but this is the general pricing for precious metals as listed above.
Diamond Certification. Some diamonds may have EGL/GIA certifications. This authenticates that the stone you are purchasing is as described. They won't cost you more, but jewelers do carry these certifications to "prove" the weight and quality is as it is written on the tag.
3. Choosing the right jeweler- this is HUGE! It is DEFINITELY okay to shop around but there are certain things you may want to consider:
The Price is Right! When you're looking for the right ring, you may find better deals elsewhere. Make sure you write down prices, diamond weight, and metal type for reference so you can compare prices from other jewelers.
Customization? If you just aren't finding the ring you want, does the jeweler offer custom pieces? This may offer you more options- plus, you can get much more creative with this!
Quality of Service: Are you feeling pressured on buying a ring? Or do you feel as if the staff has treated you with 100% support?
Reviews, Reviews, Reviews. Just because you are buying from a big name store, your customer service does influence your purchase. Check out local reviews of customers on their experiences. They do mean a lot!
4. Want to make your own design? There are jewelers who can make your design into a reality. Gather certain images or samples that may help create your design. Jewelers that offer custom designs have a creative side already, so collaborating with them is definitely possible!
5. Get your ring appraised! After you've purchased the perfect ring, make sure you appraise it in case the ring gets stolen/lost/damaged. This helps as a security measure, just like insurance.

6. Why choose Shin Brothers Jewelers Inc.? Our shop has proudly served the tri-state area for 30+years and counting. We can happily state here that we provide...
Competitive prices, thousands of designs. Get more for your money, and your money's worth. We have a large selection of designs for all styles and preferences of rings and bands.
100% customer satisfaction. Our staff has years of experience with jewelry and have been in the Shin Brothers Jewelers' family for over 10 years. They are pleasant, patient, and are here to help you find the right ring.
Unlimited custom designs. We have hundreds of customers come in with an idea. We collaborate, support, and deliver. Our custom piece work has ranged from re-inventing war coins into necklaces all the way to beautiful custom engagement rings made to surprise the bride-to-be.
Appraisals, Re-sizing, Experts all aboard! We have an on-site jeweler that can re-size your ring while you sit right beside him, so you'll never leave your precious piece behind. We also appraise rings and jewelry pieces*.
What are you waiting for? Stop by today! Call today or visit during our store-hours- you won't regret it!





Cheers,
C
Shin Brothers Jewelers Inc.
561 Route 1 South, Suite E9
Edison 08817
#shinewithshin
*: pieces vary. Limited to certain values.